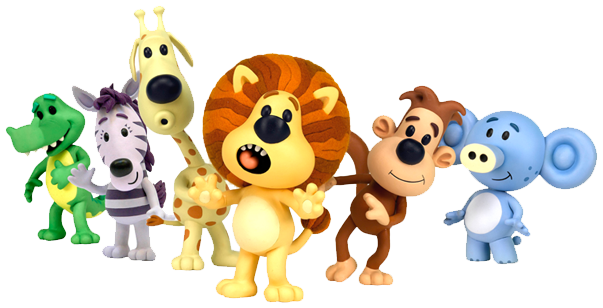 Raa Raa The Noisy Lion is a noisy little lion cub who's just finding his voice. Joining him on his vocal voyage of discovery are Huffty the elephant, Topsy the giraffe, Crocky the crocodile, Zebby the zebra and Ooo Ooo the monkey. Together this merry band of young friends are learning that they can have a lot more fun on their adventures if they use their fast developing communication skills - sounds, gestures, facial expressions and best of all words!
Hear why Narrator, Lorraine Kelly enjoys being a part of Raa Raa's world.
Background
Raa Raa was created by Curtis Jobling, who has previously collaborated with Mackinnon & Saunders on Curious Cow and Frankenstein's Cat. He came up with the idea whilst playing a game of 'Old MacDonald's Farm' with his children. When they ran out of farm animals they suggested a lion. The inevitable question of 'what noise does a lion make?' prompted the response "Raa Raa" and that's where the idea came from.
Mackinnon & Saunders took this central concept and developed it around research carried out by the ICAN Make Chatter Matter campaign which revealed that approximately 50% of children entering school in the UK have inadequate speech, language and communication skills.
Communication is a foundation life skill, affecting the ability to learn, form relationships and make friends - and research proves that children who find communicating hard, find life hard. We wanted to make a show that could, when viewed by children and hopefully their carers, provide opportunities to practice key communication skills by using our stories or elements from them as a basis for play. That's not to say Raa Raa is a preachy educational show, in fact far from it. Our primary aim is to entertain children and make them laugh, the communication message is woven subtly into the stories as an added bit of 'nourishment' that could potentially do a little bit to help with a very real issue in today's society.
Raa Raa Hits Toys 'R Us Stores
Tomy have launched their exciting new Raa Raa the Noisy Lion toy range at Toys R Us stores nationwide. Based on the hit CBeebies show, Tomy's toys allow children to recreate Raa Raa's world of the Jingly Jangly Jungle at home, with lots of interactive fun.
With the amazing Roaring Raa Raa plush toy, little ones can help Raa Raa practise his best roar for hours of interactive fun. Simply push down on cuddly Raa Raa's head to make him roar – with Raa Raa's voice and realistic roaring action. The harder you press on his head, the more he'll roar! There are also cute and cuddly mini plush toys and chunky figures of all the Raa Raa gang.
Raa Raa's Cubby Buggy is the best transport for getting around in the Jingly Jangly Jungle - simply put the chunky Raa Raa figure in the driving seat, push him down and watch him go! Collect the set with Raa Raa's Interactive Playset, an exact replica of Raa Raa's house in the show, with fun interactive elements.
The Interactive Playset and Raa Raa's Cubby Buggy are part of the innovative "Character Play System". All vehicles and playsets contain at least one unique 'Smartspot'. By placing any chunky figure on the 'Smartspot' it will automatically 'recognise' the character, play a sound or phrase related to that character and, in some instances, provide a movement or action. By collecting the full set, kids can enjoy endless interactive fun.