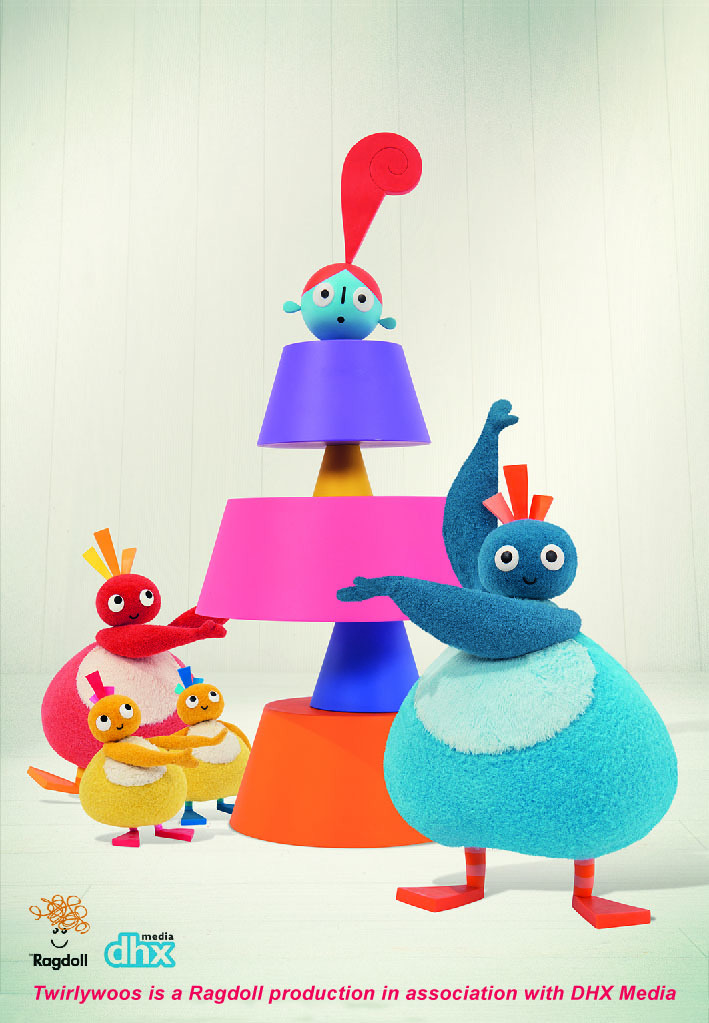 Get ready for a funny flight of discovery with the Twirlywoos (50 x 11'), a brand new comedy pre-school series for CBeebies, featuring the adorable antics of four, fruit tea-loving bird-like characters: Great BigHoo, Toodloo, Chickedy and Chick.
Silly, fun and full of surprises, Twirlywoos is made by children's TV specialists Ragdoll Productions and devised by Anne Wood (Teletubbies, In the Night Garden, The Adventures of Abney & Teal) and Steve Roberts (Dipdap) and is narrated by Linda Bassett.
Combining stop frame animation and live action sequences set in the real world, the series uses fun and laughter to encourage pre-schoolers to think for themselves and gain confidence in their perceptions of the world.
It took a lot of R&D to create the unusual armatures and soft, fabric-covered bodies for the deceptively simple Twirlywoo characters ‐ they have big round bodies on pencil-thin legs, but they need to be lightweight, capable of energetic and balletic movement and also have an element of squashiness when they sit down.
The four Twirlywoos were filmed on location and animated in our stop motion studio. The animated puppets have to convincingly interact with the live action footage, and some props from the live action shoots (including a playground roundabout!) were transported to our studio to ensure continuity. We used a lot of green screen set-ups and rigs, and the fantastic team at Nvizible Visual Effects seamlessly blended the animation with the live action.
Twirlywoos is produced by Ragdoll Productions
in association with DHX Media. The producer is Chris Wood, lead creative Steve Roberts and the executive producers are Anne Wood for Ragdoll and Michael Towner for CBeebies.
TWIRLYWOOS and all related titles, logos and characters are trademarks of DHX Worldwide Limited.
© 2015 Ragdoll Productions Limited/DHX Worldwide Limited. All Rights Reserved.